Lighting Parts
If you can't find a part at any other lighting store, you will find it at Lantern Lighting Company. We even carry antique replacement pieces for your antique lighting fixtures.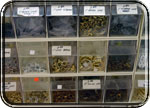 We carry all the necessary components for you to build your own lamp or lighting fixture. You can top-off your lamp with a matching lamp shade.
We will provide you with the lighting expertise that you need, so you do it safely & right.
For more complicated lighting conversion projects, let us take care of it for you. We can also engrave a message, name or other such markings on the lamp for you.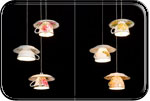 Every art piece that isn't thrown out but rather put to new use; and every lamp or lighting fixture that is repaired, means less waste in our landfills.

Don't throw out your art piece or lighting until you have at least consulted with us about cost to convert or repair it. We provide FREE estimates.
Contact us today for a free quotation.